Come si può scrivere di mare. Come si può scrivere di mare solo immaginando di trovare qualcosa di originale? C'è una letteratura intera, prosa, poesia, musica, che hanno detto qualunque cosa riguardo quella massa in movimento, e non credo sia opportuno rischiare. Prendi, a mero titolo di esempio, un brano scritto da Fossati.
Passa una barca di legno d'ulivo
con sopra un pescatore e un pesce ancora vivo
il tempo li insegue, il tempo li circonda
il tempo li dondola e gli fa l'onda
l'onda del mare, di gente di questo mare
l'onda del mare, di gente di questo mare.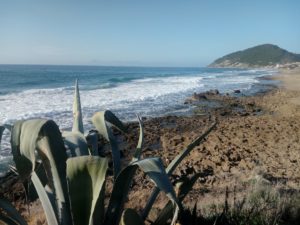 Si può mai anche solo lontanamente pensare di avvicinarsi a liriche come questa? Siamo seri su.
Certo, si può provare ad osservare il mare e a trarne qualche indicazione ma senza nemmeno osare di credere che si possa dire qualcosa di nuovo. Potrei pensare, ad esempio, alle infinitesime gocce d'acqua marina che, staccandosi dall'onda che si infrange, si millimetrizzano nell'aria e, trasportate dal vento, diventano particelle nebulizzate che accarezzano la roccia abbeverando le sue concavi fauci.
Ma forse, più utilmente, ci si potrebbe concentrare su ciò che insiste sopra il mare, lungo le passeggiate e le banchine. Lì scopri cose di un qualche interesse, come quel tizio seduto al tavolino del bar con occhiali tondi da sole affiancato da due ragazzotti, pure se non siamo sul lungomare di Malibù mi sembra "Weekend con il morto" (non so se te lo ricordi): proseguo sorridendo.
Oppure le signore di una certa età che camminano sottobraccio e parlando fittamente: "Se ne fujetter appena arrevò o mal tiemp", intercetto brandelli di discorsi camminando. Indossano spesse calze nere sopra scarpe con para lungo tutta la scarpa, rigorosamente nera: per certe signore di una volta i tacchi semplicemente non esistono. Sui balconi si intravedono i primi tavolini  per l'esterno e le persone possono finalmente lasciare le porte balcone aperte a lasciar entrare quell'odore di sale e vacanza. E io intanto osservo la distesa blu e la spuma bianca che rilascia.
Vorrei poter dire quanto grande sia il mare
e quanto sia forte quel vento che forza gli dà.
Vorrei rimanere a guardare per ore
quel movimento che pace non ha.
Ma dico soltanto, e in tono minore
che mancano gli occhi per abbracciare quell'immensità
che non oso guardare del mare la massa
che al massimo posso fissarne una goccia
minuscolo aspetto della grandiosità
frazione infinita di un tutto inaudito
porzione svanita di moto perpetuo
particella sparuta di un grande mistero.
Una goccia che prende traiettorie impreviste
per poi mescolarsi nelle acque scomposte.
Che il dio Nettuno e Fossati abbiano pietà di me.
——————————-
Passeggiate e gabbiani. Stanno sottocoperta. Sono animali in letargo, solo che non hanno un'anima, o forse, sì, chi lo sa. Come se sentissero che l'aria sta cambiando. E' solo gennaio, d'accordo, il vento prende ancora a schiaffi le banchine facendo aumentare le onde, ma il tepore del sole toglie ogni dubbio e le giornate che si allungano predispongono al buon umore.
Anche il lungomare si riprende la scena, i ragazzi stanno ancora col giaccone addosso, ma hanno imparato che a questo punto dell'anno l'inverno ha le settimane contate e la primavera arriverà molto prima della data fissata su uno stupido calendario.
Ma tu pensa se un calendario che scandisce le stagioni può andar bene per tutti i luoghi. Quella data è una convenzione, è come quando si cambiava la moneta per andare in uno stato estero, a volte ci potevi persino guadagnare con il cambio. Con le stagioni è lo stesso: in posti come questo, nel cambio stagione ci guadagni sempre.
Sembra anche che le scritte sui bar e i ristoranti abbiano colori più vividi, sarà l'angolazione diversa del sole a dare più risalto, ma si respira già un'aria che se non è frizzante, è di sicuro di attesa fiduciosa.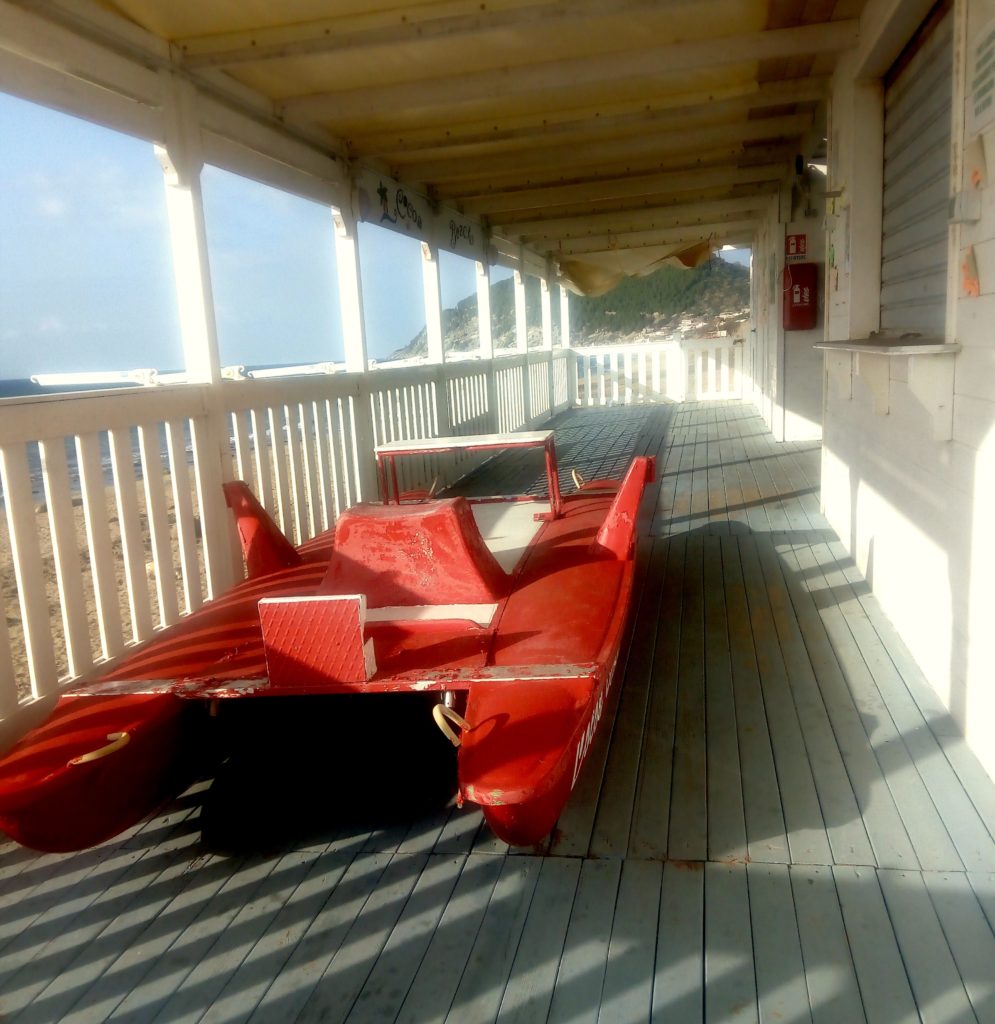 Un pescatore mette a posto con mani robuste la rete imbrigliata, poggiandola sul muretto che separa l'asfalto dal mare.
Ha gli occhi incavati e rughe profonde, ma tradisce anche lui un lampo di sorriso, mentre passo e saluto per buone maniere.
Il pattino occupa lo stretto necessario, parcheggiato all'ombra delle tavole bianche. Il suo rosso vivace fa da contrasto con il legno verniciato chiaro per respingere gli attacchi della calura che da queste parti deve essere piuttosto forte, e non vede l'ora che arrivi il suo momento di essere messo a bagno ad aspettare piedi vigorosi che lo spingano al largo.
farà la felicità di ragazzotti e di adulti che non amano stare a lungo sulla spiaggia e preferiscono avere l'illusione di un bagno dove il blu si fa più scuro e di sicuro non si tocca. Tutto il resto è attesa dell'invasione pacifica, io mi godo il cambio di espressione dei pescatori e degli osti, che sui visi lasciano sorrisi ogni giorno più convinti. Tutto il resto sono passeggiate e gabbiani.
——————————-
Come Renoir. Ho sempre adorato – anzi direi di più, quasi idolatrato – le interconnessioni che si creano tra parole e musica.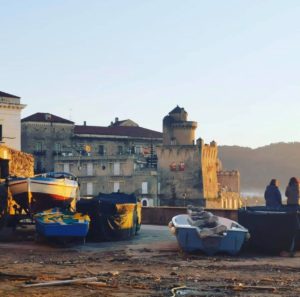 Non solo all'interno di una canzone – quella sarebbe la regola – ma anche proprio come elementi staccati che trovano un qualche inspiegabile punto di connessione con i tuoi pensieri. Così, guardando queste barche ferme, mi torna in mente senza che ne faccia esplicita richiesta, quella vecchia canzone che fa più o meno così:
"Gli aerei stanno al cielo come le navi al mare
Come il sole all'orizzonte la sera
Com'è vero che non voglio tornare
A una stanza vuota e tranquilla
Dove aspetto un amore lontano
E mi pettino i pensieri col bicchiere nella mano"
Da qui non ne passano aerei, almeno che io sappia, troppo lontana questa località dalle traiettorie dei voli, e queste barche il mare di certo non lo vedranno in tempi brevi. Certo che quando parli di barche ti vengono in mente quelle tutte bianche e lucide di resina a due o tre piani che il Mediterraneo se lo bevono a colazione e fanno viaggi tra la Campania e le isole siciliane. Queste qui invece sono barchette piccine e sfigatelle, non hanno alcun motore, sono di legno consumato, qualcuna di loro ha al suo interno pure della vernice che prima o poi qualcuno gli rifarà il colore che il mare e la salsedine hanno grattato via fino a mostrare del legno le venature beige. I colori originari sono diventati smunti e scoloriti come certi smalti sulle unghie delle donne che fanno lavori manuali e che presto saranno asportati da qualche ovatta imbevuta di acetone, per poi tornare scintillanti e luminose appena quelle donne potranno concedersi il lusso di una domenica senza lavoro.
Così queste barche sono in attesa che arrivi quella domenica di tarda primavera, quando potranno finalmente tornare al legno colorato di rosso o di blu perlato e potranno tornare a danzare al sole e al ritmo di onde lente, e i loro pescatori potranno gettare a mare le reti con più tranquillità, e aspettare di raccogliere il frutto del loro lavoro.
Ma per adesso sono parcheggiate – sì lo so che non è questo il verbo che si usa per contrassegnare le barche ferme, ma in questo caso sì, perchè queste barche non stanno nei porti, ma a terra, lungo l'asfalto, come fossero delle macchine. Solo che non hanno le ruote, e a sostenerle ci sono delle imbragature semplici, fatte giusto perché non si abbocchino.
Qualcuna di loro è stata sistemata sotto dei porticati bianchi come turisti stranieri che aspettano il cappuccino pure quando è sera. Tra qualche tempo sotto quel porticato ci saranno davvero i tavolini al posto delle barche, e turisti che aspetteranno che il ragazzo porti la loro consumazione sotto quel porticato a due passi dal mare, ma per adesso tutto è solo sospeso in una frazione di tempo rallentata come un film di Renoir.
A proposito, ma perché De Gregori quella canzone l'avrà chiamata così?
"Ora i tempi si sa che cambiano
Passano e tornano tristezza e amore
Da qualche parte c'è una casa più calda
Sicuramente esiste un uomo migliore".
(foto tratta dalla pagina fb Castellabate live24)
——————————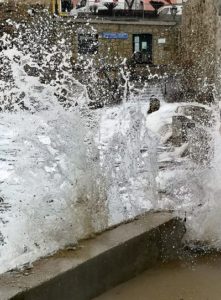 La ola. Esco a riprendere la macchina dopo due giorni di stop assoluto, mi avvicino, la trovo appannata. Ovvio -penso – c'è umidità. Per cui entro e muovo il tergicristalli a pulire il parabrezza. Sbagliato. Non è umidità, è salsedine. Le ore in cui ho lasciato l'auto davanti al mare ha provocato una totale copertura di salsedine che non se ne va semplicemente azionando il tergicristalli e nemmeno il lavavetro. Anzi quello peggiora la situazione. La salsedine è quella specie di aerosol che, portato dalla brezza del mare, è in grado di provocare danni a qualunque cosa lasciata in esposizione senza alcuna copertura. Per fortuna il ragazzo del distributore ha pazienza ed una lunga spazzola bagnata con cui riesce almeno a farmi vedere più chiaro quel tanto che basta a guidare senza problemi. Sono proprio un montanaro – penso tra me, sorridendo – adesso mi spiego anche come mai davanti al mare ci fosse sempre posto.
La statua della Madonna a Mare è misericordiosa anche nelle sere d'inverno. Alle sue spalle le onde alzano i decibel, sulle barriere piazzate a pochi metri dalla riva fanno la ola, sembrano tifosi impazziti che non vedono l'ora di andarla ad accarezzare, forse per chiedere la grazia di rallentare quel ritmo forsennato, anche solo per poco. Il motorino lasciato al buio fuma ancora, ma il ragazzo che lo ha depositato lì lo sa benissimo che non potrà lasciarlo oltre il tempo di una nottata: mica sono tutti fessi come me.
I cartelli 'Affittasi' sono di gran lunga maggiori di quelli 'Vendesi', segno che il paese tiene duro rispetto alla questione spopolamento, e anzi non aspetta altro che quelle case si popolino di nuovi visitatori, curiosi e sorpresi come i miei occhi.
Il gatto sulla spiaggia gratta la sabbia per prepararsi a lasciare un segno tangibile, ma la mia presenza lo disturba ed è costretto ad andare cercare un altro posto dove fare i suoi bisogni senza ficcanaso come me. Improvvisamente ricordo che ho anche io un bisognino da fare. Io però necessito di un luogo più appartato di quello che sceglierà lui. Certo che noi umani ci facciamo proprio un sacco di problemi. Poi per fortuna, la luna e quel movimento incessante e fragoroso ci fanno dimenticare le nostre inibizioni. Squaaaaaaaaaaaaashhhhhhhh.
(foto tratta dalla pagina fb Castellabate live24)
——————————–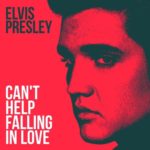 Calling Elvis. Dalla vecchia Golf appena parcheggiata sul lato opposto al mare, nonostante abbia i finestrini chiusi, si distingue l'inconfondibile voce di Elvis : "Wise men say only fools rush in, but I can't help falling in love with you. Shall I say would it be a sin?"
(Gli uomini saggi dicono che solo gli stupidi fanno le cose d'istinto, ma non riesco a non innamorarmi di te. Dovrei dire che è un peccato? ). Sorrido con in testa il refrain della canzone proseguendo lungo il lastricato che costeggia il mare. Stasera il suo movimento è tranquillo, la brezza lo sospinge piano senza scossoni né onde. Se fosse una musica sarebbe un reggae, un ritmo lento, soave e ripetitivo, mai noioso. Come dimostrano  i tanti che si fermano su qualche sasso sulla rena a osservarlo senza parlare, e sono lì chissà da quanto.
Certo che non esiste un mare liscio come una tavola: anche se lento, il mare ha sempre un suo movimento, come se fosse un organo vivente alimentato da un'energia interiore. Come se vi fosse sistemata a chissà quale profondità una dinamo che lo sospinge, il vento completa l'azione in superficie aumentandone il moto. Osservandolo, hai sempre l'impressione dell'immensità, pure se questo è un piccolo golfo che la vista può abbracciare da una punta all'altra senza girare la testa.
La domenica si fa più fatica a trovare parcheggio, c'è persino un andirivieni di giovani che popolano il borgo. Al largo le barche dei pescatori cercano fortuna. Domani è lunedì e i ristoratori e le casalinghe cercheranno pesce fresco sui bancali. La domenica scorre piano come il chiacchiericcio dei passanti, le confessioni delle coppie, i silenzi di quelli che cercano risposte. Forse tra questi ci sono anch'io.
—————————————-
Bloc notes. La mattina arriva leggero l'odore del mare: un montanaro ci fa più caso perché gli sembra diverso. Ma la cosa che sorprende ancora di più è ascoltare nel silenzio il canto dei gabbiani che di mattina fanno le prove d'orchestra come fosse un'overture. Non hanno bisogno di alcun maestro né di uno spartito, ma sanno cantare e muoversi come show girls. Mi piacerebbe sapere interpretare quei segnali.
Io non li conosco i nomi esatti per definire i colori. Potrei azzardare blu cobalto, ma non sono certo che sia quello. So solo che è forte, deciso, come qualcosa che ha carattere, ha personalità. Come qualcosa che è sicuro di sé, solido, e immutabile nella convinzione di stare lì, imperterrito ma mai immobile, e di corteggiare scogli e banchine con la stessa pervicacia. Che storia, il mare a dicembre.
"Qui non si muore" (G. Marat, 1811). Sarebbe bello se una frase fosse verità. Ma anche se non lo fosse, resta la bellezza di un paese sopra un altro, uno pieno di bastioni fortificati, l'altro con il mare che solletica le case più prossime alla riva. Sarebbe bello se una frase fosse verità, ma è bello anche poter ammirare scene perdute, e poi riconquistate.
È tutta una questione di simmetrie. Come i palazzi costruiti sulla stessa linea del mare, ad esempio. Geometrie contrassegnate da strisce bianche sul selciato in perfetto contrasto con la rotondità degli archi dei portali. In alto balconi allineati osservano a fari spenti il moto regolare delle maree.
Il bastione si erge tra la sabbia e le case retrostanti, è un guardiano imponente ma, nonostante le forme squadrate, sa di antico, quindi di generoso e solido. Al centro fanno bella mostra di sé due balconcini rossi – il rosso: un colore che non c'entra niente con le tinte pastello della struttura, eppure gli dona come il rossetto sulle labbra delle signore. Tutto il resto è attesa di stagioni più clementi.
Ho bisogno di dare agli occhi immagini diverse, di scommettere sulla gioia primitiva, di scoprire balconi senza fiori e scalinate appese al vuoto senza sapere dove vanno a terminare. Ho bisogno di sentire rumori mai ascoltati, di vedere palazzi arrampicati e porticati mal tenuti, ho bisogno di scoprire come resistono al tempo le rose dei venti scavate nel cemento contornate da mattonelle rosse che diventano percorsi mai percorsi.
Il vento rende il tepore del sole lievemente increspato, così come come arruffa le onde che cambiano strada e direzione. Moto ondoso regolare: lo confermano i gabbiani immobili sulla battigia, ladri di calore. "Se c'è una strada sotto il mare prima o poi ci troverà".
Perché si desidera il cambiamento? Per cambiare. Per mettersi alla prova. Per ricominciare. Per continuare. Per curiosità. Per noia. Per stanchezza. Per capire il mondo – o parte di esso. Per capire se stessi – o parte di essi-. Per lasciare il certo per l'incerto. O forse per qualcosa di più semplice: una nuova vista. Magari stanca. Ma magari no. È questa la sfida. Benvenuto, domani.